Customer Testimonials
"Alright, it turned out great! Hey, I just wanted to let you guys know that you did an awesome job in both getting the package here quickly and answering my questions. Your customer service was awesome, some of the best i've seen in an online store and I mean that sincerely. Whenever I had a question you responded quickly and for that i'll definitely be recommending your site whenever the subject of absinthe comes up between family and friends. Thanks for a great job." -Cory Roberts
More:
"Nice product, fast delivery. Thanks glad I got it." Aaron S - Laurel MD.
"Thanks agian I got it all nicely packed, you guys are great." Steve t - Houston TX.
"I got this as a gift for my Boyfriend. He loved it, it is so cool." Meg M - Mantua OH.
"Fast shipping and very professional. I will order again." Rick J - Laurel MD.
"Smooth transaction, all arrived as advertised. Keep it up." G Man - Santa Ana CA.
"Thanks for answering my questions I cant wait until it shows up." Seth M - Laurel MD.
"I went for the big kit and am very happy, the spoon is rad, no one has ever seen one they all ask what it is." Reg A - Pontiac MI.

"Well I got the kit a month ago and will defiantly be reordering the refill kit." James S - Tarrifville CT.
"This is the coolest thing, I had absinthe in Czech Republic, but this is way different and fun." Euro Boy - Somewhere.

"Great gift for my roommate, cuz I get to partake too he he." Dave USC - San Diago CA.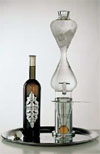 "Fast ship, thanks." Jake P - Ft Collins CO.
"Great Service and delivery." Mark T- Glendale IL.
"This is facinating , the kit is cool and well worth it, my friends are all into it." Sharon G- Huntsvile AL.
"Well I must say I was plesantly supprised. It was all very nice and things are all good." Fish - UNC.
"First batch went great." John Y - Little Rock AR.
"Thanks for the kit, this was fun to get." Matt - Denver CO.
"I love the spoon, everyone askes what it is" Beth L - Burbank CA.
"Thanks man, I looked all over the net and this is a kick ass deal. Good quality too" Seth - Portland MA.
"Fast easy transaction just how I like it" Paula - Clinton NJ.
"Thanks I will recomend others to you, my friend is going to order next week" Jeff - Chehalis WA.
"Well overall im very happy with it, let me know if you have any new products" Kris - Edgartown MA.
"Just ordered my third refill. Great product, and great service. " Dave - Lancaster PA.
"Freakin awesome!" Auggie - Tucson AZ.
"Great job guys, a taste to truely enjoy.. " Zach - Hopkins.
"This stuff is awsome 3chears for the Green Devil . " David - Desmoin IA.
"Very satisfied with the product. Very satisfied with the service. Very satisfied with the delivery and packaging. This company does good business.. " Justin Isreal - Suwanee, GA.
"tis shitt is real good i like the damm hood. " egypt dealer - Damanhour.
"Ooo!!BAby Im so excited to taste my first batch. Thanks for speedy delivery and great customer service! I will mos def be doing business with you in the future. " J - L\'Ville .
"Sweet product and sweet box, I love it. " Kathy - Cleavland TN.
"I got this as a gift and had to check out the site, It was a great thing to get." Marcus - Flagstaff AZ.
"Just had a tasting party and everyone had a killer time." Doug - Dirty South.
"Ordering a refill just in time for our Halloween ritual, last year it was a hit!" Nicole - Kansas City MO.
"Plan on getting big kit soon, Heard so much im quite sure it will be worth it and my buddies will love it too!" Robert - Misha IN.
"Great product we made a Double Devil with pure WV moonshine it was awsome." Will - WestByGod.
"Freakin awesome, best thing i've ever ordered, completely worth every penny." Josh - Nacogdoches, TX
"Damn fast shipping. I'm going to start brewing tonight hope its as good as the box is nice." Jon - FortSmith AR.
"Fast delivery. Great product. Easy to make. Thanks a lot." Devin - Bosstown, Murdr Mass .
"Great product....tripped for hours." jim veigel - Vinice.
"Super Fast shipping and great product! Thanks!" Chris - Salt Lake UT.
"Your product is excellence. Your rituals are excellence. The goat party was great, but messy. still great." Damian Salt - NJ.
"Today i will try to drink this great drink :) i'll se how it works to my head:) cheers. greetings from Lithuania :) happy new year. " Paulius - Siauliai.
"Friends Love it, I haven't tried it. Thanks" Ron - Kent OH.
"Very satisfied with this product." Will - WestByGod.
"I love this Alcohol. I got it from one of my friends in the states. It was really worth my 40 bucks. Thank You Green Devil !" Jason - Montreal,QC .
"Was really fast delivery. I had the real stuff before and hope this is just as good." Unknown - GA.
"Very fast service and delivery, good job cant wait to make my first batch of absinthe. The glass is nice too sturdy" Cory - Phonex,AZ.
"I saw a GREEN FUCKIN FAIRY MANNN...wow this is the SHIT" Alcoholic Joe - Terre Haute .
"Just started my mix wish me luck" Kyle - Belchertown MA .
"This made some killer stuff...good luck to all trying it." Diablo Verde - Mexico City .
"This is great stuff right here! you got to try it out with diffrent voodkas. you must try this. " Scott- Lacrosse WI .
"A homemade product that's equal to (and I think is better) that what I've had and tasted 30 years ago. " Daddy Dave- Newport RI .
"Good stuff, quick shipping. gives quite the buzz... " John Doe- Nowhere KS .
"THIS SHIT IS THE GREATEST!!! VERY FAST DELIVERY. I MIXED MINE WITH EVERCLEAR AND THE BLUE LABEL SMIRINOV VODKA. I FLAVORED IT WITH SOME HONEY AND MINT EXTRACT. IT WAS A REALLY STRONG HIGH. KINDA LIKE WATCHING THE WORLD IN HD. SHARED SOME WITH MY CO-WORKERS AND THEY ARE ALL ORDERING IT. " RIZZLE- MINNEAPOLIS MN .
"loved it , 4th order to date ,makes my brain melt everytime" Dusty- Olean NY .
"Product is great,super fast shipment,all the prducts are very good quality the sppon the bottle the glass the herb bags everything is great it was so fun to start,ill write again when i drink it,thanks again it was very fun " Gerry - Eureka- CA.
"You have a Super Great Product....And I did see the Green Devil...Your service is Second to None. Keep up the great Work " Kurt H - Phillipsburg, KA .
"Bottled my first two liters last night, very pleased...will be getting a refill very soon " Steven R - Austin, TX
"fast delivery, already makin it cant wait to try it " Sean L - Colorado Springs, CO
"Excellent product! Even better than the original I had in Europe " JadenThAdj - Canada
"Love this product-Always a great time. " David R - Wichita, KS
"Super fast delivery..I have a Thanksgiving day party planned to try my first batch " cyberspawn - IA .
"Got it 4 xmas cant wait 4 the outcum ill let ya no wat happened thats if i can remember ha ha " D ROBBO - Hull, England .
"This is some great stuff ++ " Jason- Memphis TN .
"Got the deluxe kit!! gotta have it man!! My first brew is almost ready and i have friends telling me to get more right now!!! " Randy- Manchester CA .
"I bought my kit on a wedsnday night and received it only two days later!! and yo answered all my questions in a flash! excellent customer service " Kailie - Savannah TN .
"I use to be one of those \"Real Absinthe is distilled\" type of people and often disagreed with the use of Vodka. After extensive research, I found this kit to be dominant and up to par / better than anything quality I\'ve had yet. Make sure to use a smooth premium vodka, you will be rewarded. To give the kit that that \"opaque\" louche, I added a light amount of straight 100% organic Anise oil (on top of what I had macerated with), also, for adding a beefier \"licorice\" taste, while masking out the heavy presence of grain alcohol. The result is phenominal!!!! " Marlon L - Cedar Rapids IA.
"Placed order on Sunday night, package arrived Wednesday around noon. WOW!" Brendan M - SL UT .
"Very fast delivery and easy to follow directions. it puts a nice twist on a saturday night! " Adam- DSM IA .
We would love to hear from you, it only makes our products and services better.
Post your testimonial now. we would love to hear it.
Customer submitted Photos