Deluxe Kit
Our deluxe kit is for those looking for everything you need on one complete kit. You cant go wrong with this setup. You get the following items in the kit, along with detailed instructions on absinthe preparation and consumption.
Two classic absinthe spoons
Two engraved hand blown absinthe glasses
One 1000 ml absinthe Bottle with cork
Two bottle labels
One packet herbal absinthe blend, including one oz of wormwood (makes 2 liters)
One packet of traditional herbal absinthe flavoring , including citron, melissa and mint (flavors 2 liters)
Two unbleached 100% cotton muslin bags, with a drawstring perfect for infusing herbs
One Green Devil Poster.
An informational pamphlet on absinthe instructions, recipes and rituals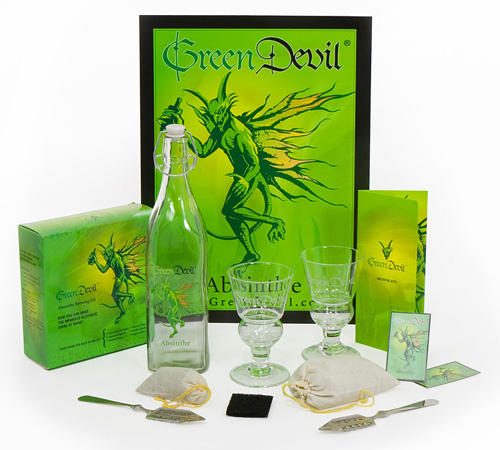 We offer only the finest organically grown herbs that are cultivated without chemicals and certified organic. Each kit of herbs contains two packets. The first is the primary packet with Wormwood as the main ingredient. You will get 1.2 ounce of Wormwood that should produce one liter of absinthe with an estimated thujone content of 70-90mg/L. This is approximately eight times stronger than the absinthe that is sold in Europe. The rest of the ingredients are all part of original absinthe recipes from the 1800's. We have spent hundreds of hours refining this and testing the correct blend to bring you the most authentic absinthe kit available. And one more thing, you can actually use the kit twice! So you can get a second batch, that's 2 liters altogether with one kit.
In each herbal kit you will get: Main Absinthe Blend:
wormwood (1.2 oz)
hyssop
calamis
melissa
anise seed
fennel seed
star anise
coriander seed
Absinthe Flavoring and Finishing Blend:
mint
melissa
wormwood
citron peel
liquorice root